The cost of self-reliance
Good afternoon, sweet Anna!
I've recently been mulling over the costs of homesteading (or whatever else people choose to call it) and thought it would be wise to ask you what you think.
Purchasing land and home aside, what are the the bank account costs of establishing a garden that can feed two people with the methods that you use?
Even if you buy the land outright and the home is free, or also bought outright, there are still repairs that will have to be made over time, is there a way to guess a general amount per year for that? How much to maintain soil, gardening equipment? Seed preservation, food storage, and livestock if one keeps the smaller, more cost-effective animals?
You guys have been making great strides on the farm improvements by utilizing your helpful assistant lately, what do those sorts of costs look like?
Obviously much of what you can explain are only guesses or your own costs, but
what are some good methods for keeping track of costs
once we begin on our own journey on the land?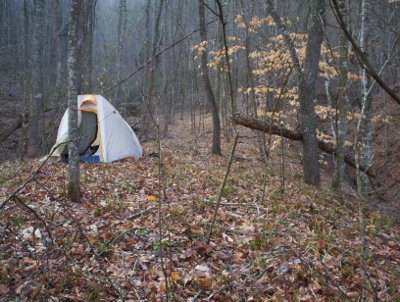 I suppose what I'm asking is: how much does it cost to maintain and how much does it cost to improve over time? I think that some of us who are hoping to go back to the land would like to know how much to plan for. We need to know, generally of course, how to determine the money we would need to tuck away, invest, or what level of income to maintain so that our lives can function while we find our balance, then how much it will take to cruise right along.
Most people --- okay, maybe just me --- don't have any idea how to plan for food. I don't know how much salad I eat, if I'll need potatoes, if I can really stomach that much zucchini, etc. And worse, I'm worried that even if I calculate enough, that what I grow won't make it. Every year is an experiment, surely, but how can you figure in the cost of having to go to the store anyway because of crop failure, etc?
Is this all just too BIG a question? Is it simply too much to answer? I don't know who else I can ask.
Thank you so much for all you do,
Brandy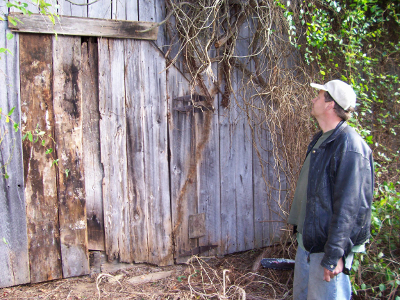 I've been receiving a lot of thought-provoking reader questions like this via email lately, but there are always so many other things to post about that I never seem to get around to answering them. There's no time like the present to start, though, and I thought Brandy's question might be something that other readers would like to chime in on. (Plus, with a salutation like that, how could I not make this the first reader question post of the summer?)

While I think we should all talk about money more, this is a tough question to answer because everyone will spend a different amount of cash on their homestead. Mark and I believe strongly in paying as we go, which means that in the early years on the homestead, we spent next to nothing on the garden and improvements. Our combined annual income was $12,000 at the time, so we simply couldn't afford any excess.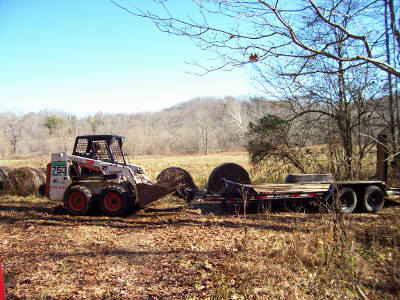 That said, I had been saving ever since high school, so I had enough of a nest egg to pay some hefty startup fees. It cost $1,266 for our electric hookup and we paid another $2,000 to move our free trailer onto the land. Mark and I were just barely dating at the time, so I paid off his debts in exchange for labor before we pooled our incomes and started going steady. As a result, we went into the endeavor debt-free, except for a no-interest, pay-when-you-feel-like-it loan from a very good friend to buy the land.

During our first two years on the farm, I budgeted $100 for seeds each year, and if I could drum up the cash, spent another $50 or so on perennials, but we didn't add any other storebought inputs. Many of our first perennials were gifts from friends --- our family's heirloom Egyptian onions have now spread across the U.S., and a friend's gift of two varieties of strawberry plants have fed us bushels of berries while also allowing me to give away starts to my family and friends. We started our grapes by taking hardwood cuttings from a friend's orchard, and our huge ever-bearing raspberry patch started as a single plant that came as a freebie with our order of fruit trees. The theme here is that if you understand how to propagate plants and save seeds (and are patient), you can get the plant side of your farm going with very little cash.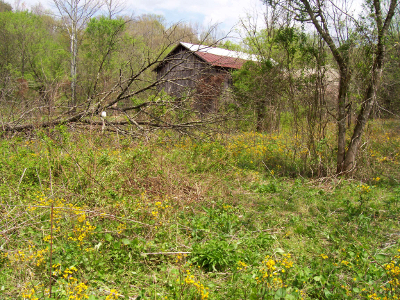 Our first chickens were a partnership with a neighbor who wanted fresh eggs but didn't want to put the time into building chicken tractors and taking care of the livestock. He paid for the birds and we only had to buy chicken feed, giving him some eggs in the early years. That said, chicken feed isn't cheap, so poultry care made up a large proportion of our early farm costs ($262 in 2008, before we gave away some of the 20 birds we started with).

Meanwhile, we turned the trailer from a windowless, throwaway item into a living space using free building materials my mother found on the curb on trash day and that we picked up at a giveaway of a service organization that builds houses. We did splurge a hundred dollars or so to get new double-glazed windows, which had been custom-made but not picked up, so were vastly reduced in price. Tools were the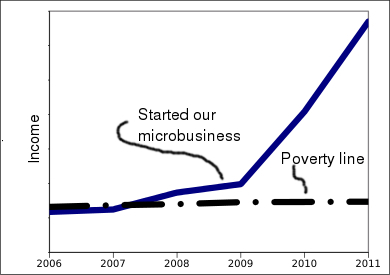 expensive part, but my father found a lot of hand tools for me at an auction and Mark's mother gifted us with many power tools. (The December volume of Weekend Homesteader covers the tools that I consider the bare essentials for homesteading.)

While this sounds like hard-scrabble living (and it was in certain ways), we also had the freedom to invest our time in breaking free of the rat race and figuring out where our passions lay. Since we weren't saddled with debt, we were able to tighten our belts and start our microbusiness, finally rising above the poverty line. More recently, income from my writing has added to the coffers, which means we suddenly have plenty of extra cash to throw at homesteading projects.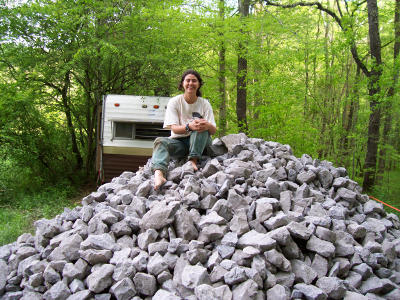 As our income has increased, we've put more and more money into the farm. We spent nearly $900 on each of our efficient wood stoves (getting some of that back in taxes), which lowered our heating bill and finally allowed me to stop wearing a winter coat inside. The East Wing cost us another $1,100, and more recently we spent $4,000 on the barn roof and have paid Bradley around $3,000 this summer for lots of projects (only some of which you've seen on the blog) along with perhaps that much again for his building supplies.

Lately, we've been investing lots of cash in straw and cover crop seeds --- Mark talked me into splurging $80 this summer on 20 pounds of oilseed radishes to really boost the farm's fertility and we've also spent $650 in the last year on straw. And, as you've probably noticed, we've been devoting more cash to perennials that are experimental, half of which fail to thrive in our climate, but others of which have found a niche on our farm.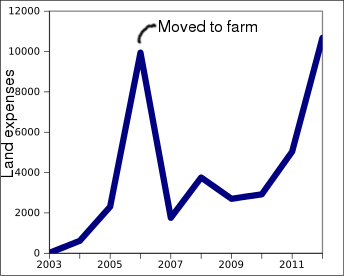 I keep track whenever money goes in or out of our pockets using the free program GnuCash. It reports that we've spent just shy of $40,000 on the farm since 2003, which you should take with a grain of salt --- I'm not as careful to make sure that everything is categorized correctly in our non-business accounting. But you can get an idea for annual costs, ranging from that expensive startup year, through the years when we were barely getting by, and finally to our push in the last year to invest in our homestead.

So, the take-home message is --- assuming you don't go into debt to get started, your annual costs could be as low as $2,000 to $3,000 per year to run a two person homestead. However, that assumes you're willing to do without and pinch pennies (much easier if you start with nothing and slowly build up your infrastructure than if you move from a fancy place in the city and are shocked to live without running water for the first few years).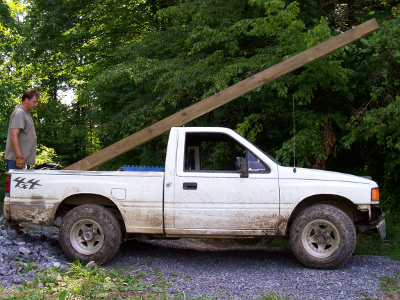 The one ongoing expense you can't get away from is property taxes, which is why I highly recommend buying cheap land and living below your means. We purchased subpar swamp and hillside in a poverty-stricken region of Appalachia for $600 per acre, and even though property taxes have risen considerably in the last eight years, we only paid $321 in county taxes in 2011.

I hope that helps you get a handle on the financial side of homesteading. I didn't cover all of your questions in depth since it's hard to put a cash price on the value of the produce we grow (although I did mean to add that I think any reasonably interested person can grow all of their own vegetables as long as they diversify enough that if one crop fails, they can eat something else). Maybe others will chime in with their answers to Brandy's question?

(By the way, all of these photos are from when Mark and I were courting, before we moved to the farm. And, as a postscript to the many people who have emailed questions I haven't yet answered --- don't worry, you're still on my list!)


Our
chicken waterer
has received rave reviews from chicken keepers around the world.

Want more in-depth information?
Browse through our books.
Or explore more posts
by date
or
by subject.


About us: Anna Hess and Mark Hamilton spent over a decade living self-sufficiently in the mountains of Virginia before moving north to start over from scratch in the foothills of Ohio. They've experimented with permaculture, no-till gardening, trailersteading, home-based microbusinesses and much more, writing about their adventures in both blogs and books.





Want to be notified when new comments are posted on this page? Click on the RSS button after you add a comment to subscribe to the comment feed, or simply check the box beside "email replies to me" while writing your comment.