Sorry to leave you all hanging without a post last night. What was supposed to be a six-hour round trip to pick up goat #2 turned into a nine-hour marathon due to road work in both directions on the highway and an excellent hour of goat training at
Newland Nubians
.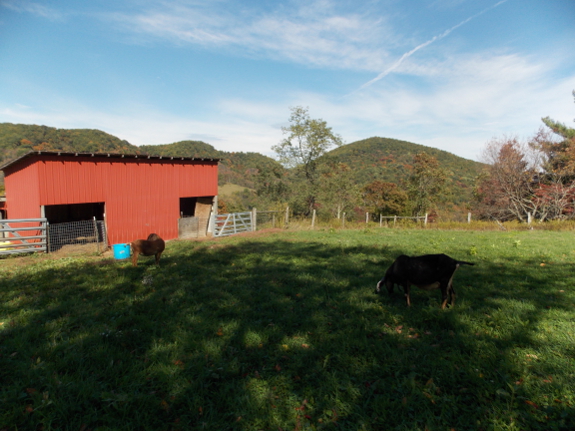 What's with the excessively long drive to pick up a goat? Well,
our first goat
nearly fell into our laps, but I hit a lot of snags trying to find an appropriate companion for Abigail. We didn't want a large goat, and the only small goats for sale nearby were being bred for looks and were going for about $300 a pop. We figured if we were going to have to pay top dollar for a goat, she might as well have traits we wanted (pasture potential and milking genetics), so we looked further afield.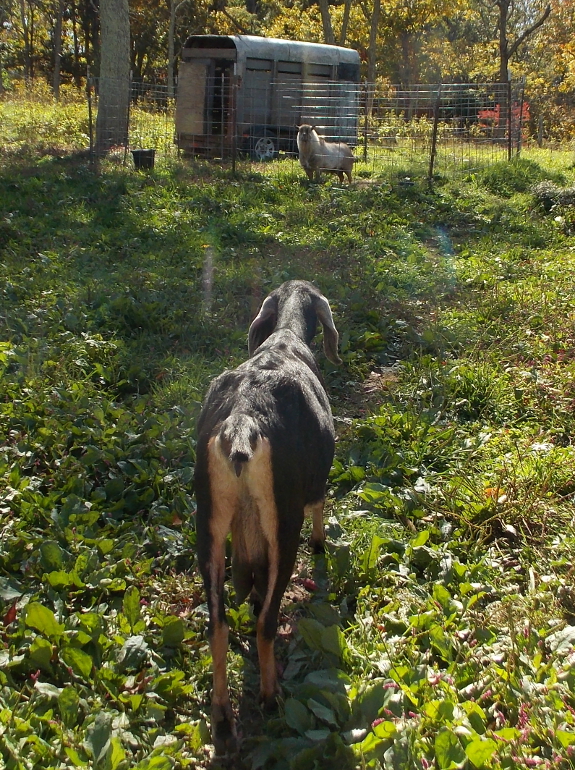 The photo above shows the parents of our new doeling (name yet to be determined). In the foreground, you can see
Aowen
, who is ten years old and pretty skinny at the moment, but who has proven herself over the years and has been the mother of quite a lot of Newland Nubians' current herd. Aowen is a purebred Nubian who typically milks through (meaning that you don't have to breed her every year to get milk) and she's still giving a quart a day at her advanced age. The father, in the background, is
Hunting with Emmet from Tiny Town Goats
, whose mother was the champion Jingle and who brings small size to the equation.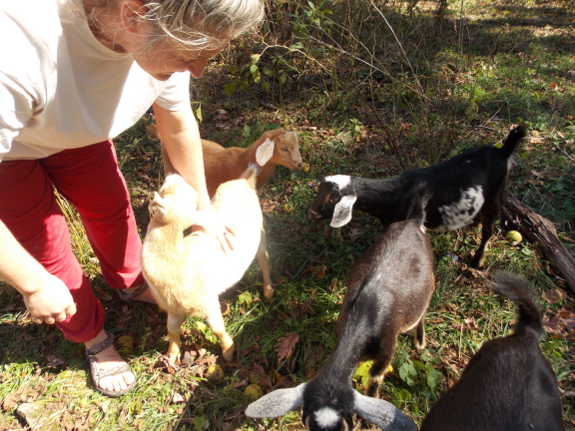 Our new doeling is four months old and has charisma in spades. She kept nuzzling us on the ride home, and when I carried her up our swampy floodplain, she was unworried enough to grab bites of leaves as we passed by. Here's hoping she and Abigail get along well and turn into BFFs.
More seriously, our doeling is also a prime pastured animal since she and her cohorts have been raised on browse (and milk) alone since birth. That should result in a well-developed rumen that will serve them well during their pasturing career. A few other doelings (and, I believe a wether) are currently available from the same breeder if you're looking for small pastured milk goats and are willing to drive to the Roanoke/Blacksburg area. The links up above in the post will lead you to the breeder's facebook page and website for more details. Tell her I sent you and she'll give you the $300 price on the Aowen's granddaughter!