Wildcrafting perennial vegetables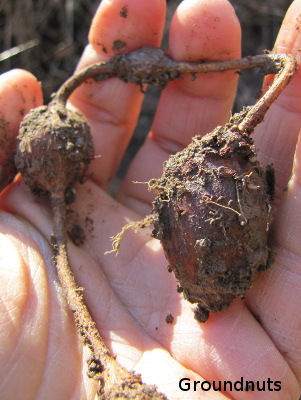 Since the plow wasn't introduced to North America until after European settlement and since perennial vegetables are much easier to manage with hand tools than annuals are, several of the vegetables profile in Eric Toensmeier's book were important in the Native American diet. In some cases, the Native Americans just hunted down the plants whenever they wanted a meal, but in other cases they would transplant these perennials into the woods around their settlements for easier harvest. I sometimes wonder whether the high percentage of "wild" edibles on our farm is the result of just such an ancient forest garden.

Our farm is naturally home to four major perennial vegetables --- arrowheads, poke, groundnuts, and nettles --- and a fifth (ramps) grow in nearby woodlands. All five of these natives are good candidates for simply harvesting sustainably out of the wild, or for introducing to wild habitats where they might have once grown. I hope to hunt each one down this year and give them a taste test to determine whether they're worth cultivating in our forest garden or encouraging in our wild areas. For those of you unfamiliar with the quintet of wild edibles, here's a run-down on their uses and cultivation.

Our native arrowheads (Sagittaria latifolia) were once important in the diet of Native Americans, while the related Chinese arrowheads (S. graminea) are still planted in rice-paddy-like farms in Asia. In both species, you eat the small tubers which can be located quite a distance from the parent plant along its roots, cooking them like potatoes. Toensmeier recommends planting arrowheads four to five feet apart in sunny ponds, or in pots in water gardens for easier harvest. The native species is more cold hardy, but you might get away with growing the Chinese species if you can keep the roots from freezing (and, presumably, the Chinese species has been bred to have a better taste.)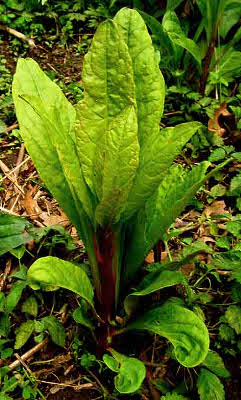 Poke (Phytolacca americana) is a common weed in our area, and most old-timers can tell you exactly when and how to eat it. Although poke has clear potential as an early spring green, I was always turned off by the careful preparation required to delete the poisons --- you have to harvest shoots before they are eight inches tall, carefully cut off any portion that is pink, then put the edible parts in a pot of water and bring it to a boil. After the water boils, pour it off and refill the pot with another round of boiling water, simmering for about five minutes this time. I can't seem to wrap my head around the idea that there would be any nutrients and flavor left in the poke after this double boil, but Toensmeier wrote "I was shocked to discover that the hearty, rich flavor left me wanting more!", so maybe poke is worth a try after all.

Groundnuts (Apios americana) are another edible that our farm grows in spades, but which I've refrained from eating for fear of poisons. I'd read previously that a few people are allergic to groundnuts and have severe adverse reactions, but Toensmeier points out that's also true of peanuts and other common staples. He recommends trying every new perennial vegetable in small amounts for the first two times before eating your fill thereafter. Groundnut is an annual vine that naturally grows up through shrubs and other understory plants in open, damp forests. You harvest the small, round tubers year-round and cook them like high protein (16%) potatoes. If we try them out and like the taste, it would be worth buying one of the varieties that Louisiana State University has been breeding since those tubers can be up to 5 inches in diameter rather than the usual one inch. When cultivating groundnuts rather than just digging them in the wild, plant tubers one foot apart in the fall and provide a trellis for the vines to twine around. Groundnuts prefer full sun to partial shade and like moist soil. After a couple of establishment years, the groundnuts should be harvested heavily since they tend to take over the garden otherwise.

Both Stinging Nettles (Urtica dioica) from Europe and Wood Nettles (Laportea canadensis) from the U.S. are well-spoken of as early spring greens. Once again, I've known about the benefits of nettles for a long time, but have steered clear, this time because of the painful stinging hairs. This spring, I'm going to try to remember to hunt down these early, nutritious greens, harvest them with gloves, and then boil for two minutes to deactivate the sting. I don't have any plans to add them to my garden, though, because Wood Nettles grow quite profusely right up the hill.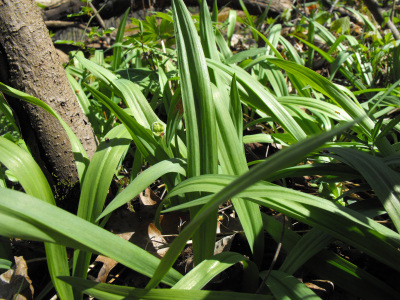 Ramps (Allium tricoccum and Allium burdickii) are the final wild edible that made the cut to be included in Toensmeier's book. Ramps are so well loved in our area that they are threatened in the wild from overharvesting, so I've never tasted them, but I've read that both the bulbs and leaves are edible, with the former tasting like garlic and the latter like leeks or scallions. Last year, I transplanted a few ramps into my forest garden a bit willy-nilly, and this spring I hope to plan ahead a bit better and get a start that's more likely to take hold. Toensmeier suggests that ramps can probably be transplanted into many moist, deciduous forests in the eastern United States and that their current relative scarcity is due to ant-dispersed seeds which make ramps slow to recolonize an area after it has been opened up by logging or agriculture. Ramps are easiest to propagate by dividing clumps, preferably when they're dormant, but the plants can also be divided when in leaf if you work with care. You can grow ramps from seed, too, but it may take two years for the seedlings to come up from under their preferred thin mulch of leaves. In either case, space plants 12 to 18 inches apart and harvest lightly until they are established.

I dug a small batch of groundnuts up while writing this post, but the other four wild edibles are going to have to wait until spring for the taste test. My memory is notoriously faulty, so I hope all of our readers can help remind me --- if you see that it's ramp, nettle, arrowhead, or poke season, drop me a comment and send me out in the woods to harvest our dinner!


This post is part of our

Perennial Vegetables lunchtime series

. Read all of the entries:

Want more in-depth information?
Browse through our books.
Or explore more posts
by date
or
by subject.


About us: Anna Hess and Mark Hamilton spent over a decade living self-sufficiently in the mountains of Virginia before moving north to start over from scratch in the foothills of Ohio. They've experimented with permaculture, no-till gardening, trailersteading, home-based microbusinesses and much more, writing about their adventures in both blogs and books.





Want to be notified when new comments are posted on this page? Click on the RSS button after you add a comment to subscribe to the comment feed, or simply check the box beside "email replies to me" while writing your comment.