Have you guys considered bamboo as a sustainable resource? Every year, about 15 new shoots come up from a 3" diameter and 15-30 foot long bamboo patch in my yard. I harvest the ones that have been around for 2-3 years and use them for everything from grape vine trellises, to bean plant supports, to lumber.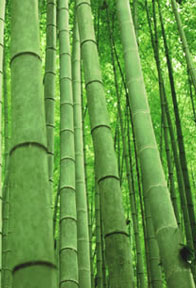 I am already thinking about how I can put together a chicken tractor or rabbit hutch with the excess I have this year. It is rot resistant, strong, etc.
I am going to take a trip to a local grower one day. They have varieties that are everything from 1/4" diameter and 8 feet long, to 12" diameter and 80-120' long. I want to plant some of the bigger variety soon.
Another great use for the bamboo once harvested is the dropped leaves make a pretty good natural mulch. I cut down the bamboo, drag them where I want them and then strip off all the branches in a pile. The leaves drop off the branches in about two weeks, then I get a rake and rake up all the leaves and put them in the garden.
Bamboo is a wonder plant as far as I am concerned.