Overpopulation
Agriculture was humanity's solution to the problem of overpopulation --- a farmer can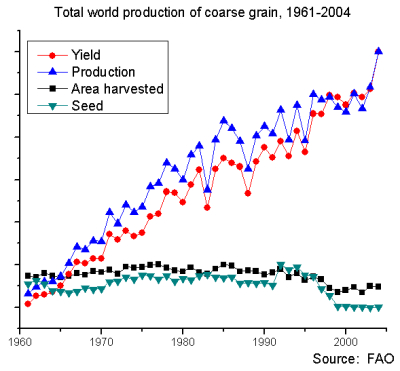 grow ten to 100 times as much food in a certain area as a hunter-gatherer can collect from the same amount of land left in its wild condition. But in the early twentieth century, it looked like even agriculture couldn't save us from starvation. In the United States, we were farming all of the arable land, but people kept having babies --- clearly, we needed to find a way to increase the yield per acre. So modern science came up with hybrid corn and dwarf wheat that could be combined with chemical fertilizers to feed our growing population.

The Green Revolution is only a short term fix, though. One day, humanity will find the limits of our planet's ability to support us --- unless, that is, we can discover a method of bringing our population growth under control. That's a tough order since every introductory biology course teaches that the basic evolutionary urge of reproduction lies at the root of all animals' actions, including humans. That urge --- to have as many kids as possible so that our genes will spread across the world --- led us to agriculture and our wars of conquest.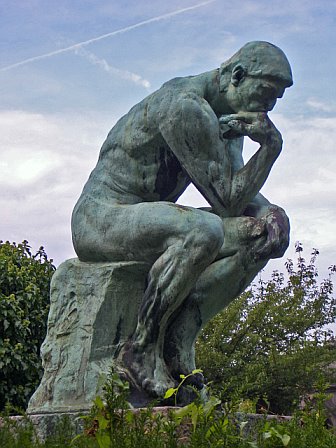 But humanity has a saving grace. We are able to use rational thought to decide when and how to override our ingrained evolutionary urges. For example, since males of most species spend so little energy creating sperm, it's understood that the most efficient male reproductive strategy is to have sex with as many females as possible. And yet, in modern society, most men have found a way to sublimate that urge --- in fact, some men even choose to practice monogamy and are quite happy with that anti-evolutionary choice.

All of us are probably familiar with another way that we buck our genes on a daily basis. We've evolved in a world where salt and sugars are scarce, so most of our bodies tell us to eat more potato chips and candy. And yet, we somehow manage to listen to nutritional advice and keep our salt and sugar intake within reasonable bounds --- human rationality wins over bodily urges yet again.

I believe that modern humans must make another ethical decision and choose to limit our own birth rates, just as hunter-gatherers once limited their own population growth. If we each opted to have only one child (or no children at all), we could halve our population at the same rate the first farmers doubled theirs. Of course, that would mean directing our societies away from "growth economics" --- living within our means as a nation, saving more since we won't have so many young workers to support us as we age. In short, choosing to limit our birth rate would mean living sustainably.

Mark and I chose the no-children route years ago, and I wholeheartedly recommend it. If I had been completely honest, I would have put Mark's vasectomy on the list of factors that turned our fourth year on the farm into the best year ever. Being child-free by choice gives
us a lot of benefits besides unprotected sex, though --- lack of children is one of the reasons we can live so happily on very little income, and we also have lots of free time to research permaculture, shoot photos, and travel.

Neither Mark nor I have an overwhelming urge to rear children, which isn't as unique as you might think. I've spent a lot of time in the last few years feeling out my friends and acquaintances about their decisions to reproduce. Leaving aside those whose religion or laziness forbade them birth control, the reasons people cite for having kids are varied --- societal pressure, an assumption that having kids is simply what adults do, a way out of an annoying job (a surprisingly common reason among women), a way of bonding the spouses together, an urge to find meaning in a currently unfulfilling life, etc. I suspect that none of these reasons feels quite as important after those new parents spend two years without adequate sleep, and I pity the children who are reared by people who looked at kids as a means to an end rather than as the full time, lifelong commitment they really are.

Sometimes I dream of a utopian world where the only people who embark on parenthood do so out of an urge to raise a child to the best of their abilities. From my informal poll, it seems like these people make up perhaps a quarter of the population, if that, which makes me feel like these true parent types could actually have three kids apiece and the world's human population would still plummet. In this real world, there are a lot of options for those who feel called to the path of parenthood but who don't want to clutter up the world with more humans --- fostering and adoption are at the top of the list. In fact, I feel like I got all of my parental urges out of my system by being an informal nanny to Mark's cousins for a few years.

If you have already become a parent, you can still be part of the solution. Why not teach your kids and grandkids about birth control (and pass out condoms like candy?) Various studies have shown that having the ability to choose if and when to have kids is especially important for women who may opt to have kids at an older age, preserving the mother's health and allowing her to attain a higher standard of living. (There's a reason the terms "barefoot" and "pregnant" go together.) You might even consider cluing in starry-eyed young men and women about the realities of parenthood seldom spelled out on mainstream television shows.

Just as overpopulation initiated poverty, wars of conquest, and ill health, I think that voluntarily reducing our population can solve many of these problems. Choosing a route other than childbirth is the biggest contribution most of us can make to environmental protection and world peace.


This post is part of our

History of Agriculture lunchtime series

. Read all of the entries:

Want more in-depth information?
Browse through our books.
Or explore more posts
by date
or
by subject.


About us: Anna Hess and Mark Hamilton spent over a decade living self-sufficiently in the mountains of Virginia before moving north to start over from scratch in the foothills of Ohio. They've experimented with permaculture, no-till gardening, trailersteading, home-based microbusinesses and much more, writing about their adventures in both blogs and books.





Want to be notified when new comments are posted on this page? Click on the RSS button after you add a comment to subscribe to the comment feed, or simply check the box beside "email replies to me" while writing your comment.