...stripped off the leaves to feed the chickens...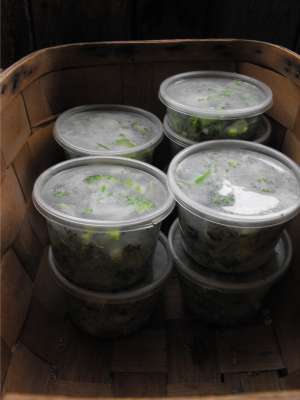 ...and put over a gallon away for the winter.
Last fall, I cut the tops off our broccoli and let the plants send out side florets for a couple of months, but I manage spring broccoli quite differently. With my spring crop, I cut down the whole plant when I harvest the top, peeling the stems to be added to the steamer pot.
Part of the reason for this different management is pests. As we reach June, the few, easily-picked
cabbage worms
are joined by the southern cabbageworm, which burrows up under the florets and is very difficult to pry out. I figure it's not worthwhile to fight the bugs for a few sideshoots.
I also planted the broccoli a bit too close together this spring, so it's good to thin the crop and give the smaller plants room to grow. Once the little guys mature, I want to hurry and put in a different summer crop in the broccoli beds while it still has time to grow. Finally, I just really love the taste of broccoli stalks!
While I was at it, I froze 5 pints of spinach, collards, and swiss chard. I've resolved that we will not have to resort to buying vegetables next March and April!