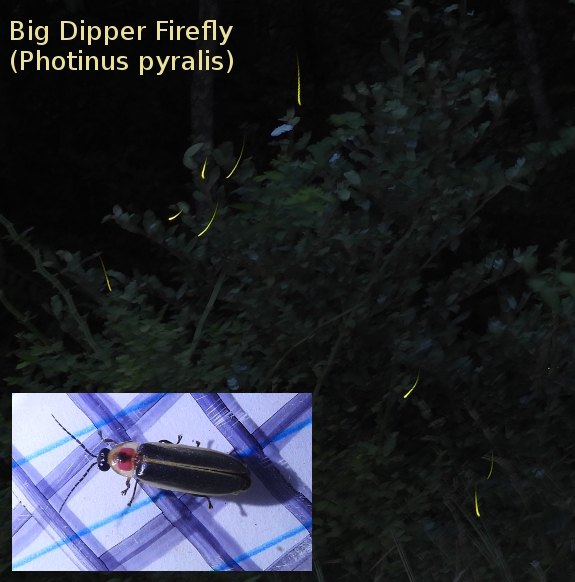 I'm happiest when I have something complex and natural to keep my brain occupied. This year I found the perfect hobby --- fireflies! A citizen science project asks you to spend thirty seconds once a week counting the firefly flashes in your backyard. I gave it a try...and was instantly hooked.

Did you know that there are hundreds of species in the U.S., possibly dozens within a single backyard? One species, though, is pretty simple to figure out. The male Big Dipper (Photinus pyralis) usually comes out right at sunset and flies for half an hour or so. He's got long, yellow flashes that are either J-shaped or (as in my yard) simply rise upward. Count about 5 seconds of darkness in between at 76 F and you've got one firefly species to check off your life list!

(Why do I say "he"? Because the female is hidden in the grass, surveying the field and choosing a mate. Yes, firefly flashes are all about sex.)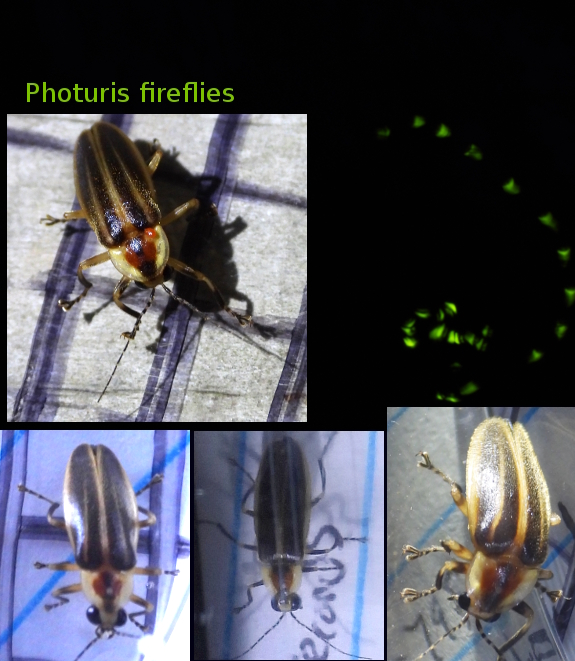 Then, of course, identification gets more complicated. The other common type of fireflies --- Photuris species --- is often predatory, preferring to hunt flashing fireflies of other species rather than seeking mates of their own kind. So Photuris will mimic the flash patterns of other fireflies as well as (sometimes) making specific flash patterns of their own.

There are also a lot of Photuris species out there. I've plotted out a 550 square foot section of our septic field for summer studies and I usually manage to watch about the first half hour of the Photuris show twice a week. Over the course of the last month, I've found at least five different Photuris flash patterns before my eyelids get heavy. Are they all different species? Who knows!

The flash photo above, by the way, shows a typical Photuris habit --- when caught (in a petri dish in this case), they scurry around flashing as fast as they can. Did you notice the flashes here are green rather than yellow, like the Big Dipper's? That's a diagnostic difference between the two genera, along with the long legs of the Photuris and the stripes you often see on their wing covers.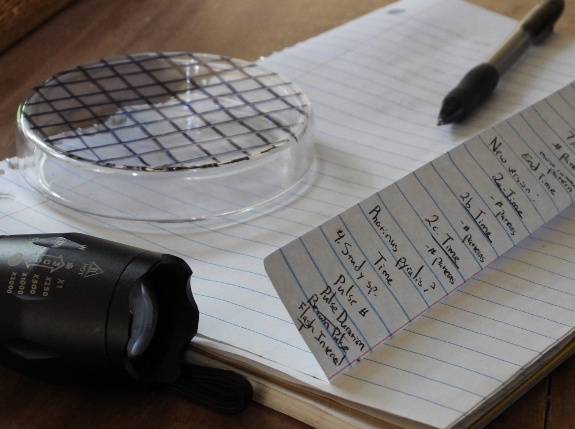 If you want to delve deeper into fireflies, I can recommend some books and gear. Fireflies, Glow-worms, and Lightning Bugs is a beautifully illustrated and easy to read field guide...to a few of the most common species.

Definitely start there, then once you outgrow easy you might want to download the free, intense, and highly technical A naturalist's long walk among shadows: of North American Photuris – patterns, outlines, silhouettes… This book will help you realize that scientists don't know enough yet to ID a lot of the Photurises. Still, it's fun to try!

Trying involves catching and photographing fireflies after you've gotten a handle on their flash patterns. (Here's a free download to some of the most common patterns.) For catching, I found this net to be cheap and effective (especially when combined with masked, socially distancing neighbor kids). Glass petri dishes made it much easier to photograph fast-moving Photurises, and it's now a breeze to measure insects in those photos since I drew a 1 cm grid on the bottom of the petri dish with a sharpie.

Other than that, the only hard part is staying up late (can't help you there --- I'm terrible at it). Oh, and accepting that firefly season is fleeting with species winking out with each week of summer. What better way to squeeze every bit of joy out of the year, though, than to watch fireflies during these short, hot nights?