I did the unthinkable last winter --- I ripped out all of my strawberries. The issue was chipmunks. Our berry enclosure is bird proof, but no matter how hard we worked we couldn't plug every little hole that chipmunks burrowed through. As soon as berries showed the first sign of white, the chipmunks snuck in and tore off every single fruit, strewing them across the garden path and taunting me. With no harvest on the horizon after four growing seasons, I gave up.
Then Mark shook his head and refused to throw in the towel. "I can make a chipmunk-proof raised bed," he told me. "Some hardware cloth on the bottom and a hinged, screened lid should do the trick."
You can see the result at the top of this post. I hope it works as well as his caterpillar tunnels have!
In other news, sad then glad:
Both Strider and Huckleberry left us over the last year. They were both old, beloved cats and their memories are unlikely to fade soon. We deeply miss them.
On a more pleasant note, a new book-recommendation website asked me to write up a post about the best books for beyond organic gardeners. If you've been following our blog since the beginning, there's nothing new here. But those of you who haven't read every single book I ever recommended might enjoy skimming off this recommended cream.
I hope your gardens are growing and your homesteads are happy. Enjoy the spring!
Mark's been promising to add a window to my office ever since we moved to Ohio. But I didn't take him up on it because I couldn't quite visualize what I wanted. Then, in November, a burst of inspiration consumed me. Of course! I wanted a window seat!
Since I'm not a clothes horse, my closet was half empty. That made it easy to move those clothes elsewhere and reinvision my closet as a cozy little nook overlooking the forest. Once I dreamed it up, Mark made it happen.
First step was cutting a hole in the wall. Since the weather was nippy, Mark did this in two stages. Initially, he took out all of the inner layers, leaving the metal in place. This required lots of different kinds of saws.
Then he framed up the window, lifting the window in and out a few times until he had it just right. Now it was time to cut away the metal on the outside of the trailer with an angle grinder. A bit of touchup and a lot of caulk had me sealed back in.
The window seat itself was framed up out of leftover lumber. I used this two-part cushion to give myself some padding. Throw on some trim inside and the project was done in record time.
Since then, it's been hard to tear myself away from the window seat. I sit there with a book or a notebook, relaxing or researching while watching the birds. Half the time, I end up with the window open, hanging halfway out with my camera so I can snap wildlife shots.
Which is a long way of saying --- while I've barely been posting here, you can see lots of nature photos if you follow me on my new instagram page. Hope to see you over there!
July and August are always the months when I look at our garden and despair. Not for the usual reason --- weeds. But because perfection was not achieved.

This year, we're trying out drip irrigation, set on a timer to water for three hours twice a week. When I got the first monthly water bill, it had skyrocketed up $55. Yikes! Was the haul worth the sticker shock?

On the one hand...very much! All of that water has our asparagus sending up enough spears that we're harvesting a meal weekly, figuring we might as well pick the spears since the canopy is already completely full of happy, older fronds. At organic, summer prices, that pays for about half of our water bill right there.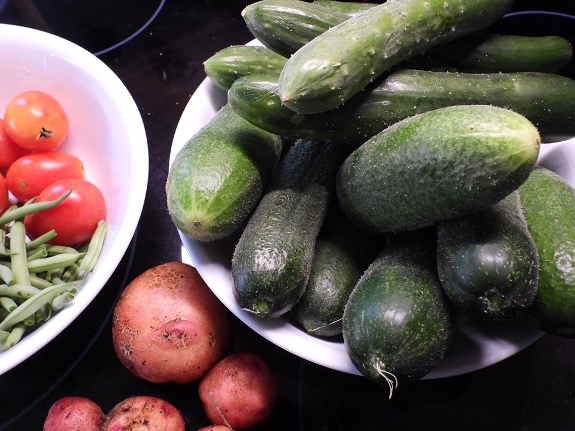 And the cucumbers! I always succession plant in case bugs and disease get the early crops, which means we've been rolling in cukes. We eat about six a day and I've still been having to gift grocery bagsful to the neighbors.

Oh, and did I mention lettuce? Mark's gotten into the habit of making us salad for lunch every day, which can be tough in the summer. But drip is keeping leaf lettuce soft and delicious as long as I plant a new bed each month.

So what's the problem?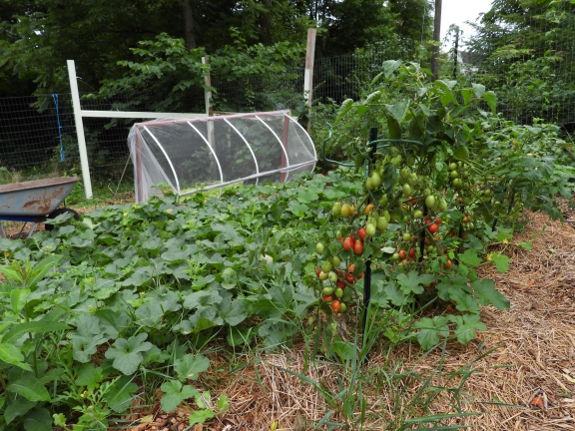 The walnut trees. We have a couple of largish black walnuts about fifteen feet from one corner of the garden and they never caused problems in the past. But I suspect irrigating strips of garden beds tempted walnut roots to concentrate their attention on my growing area. As you likely know, walnut roots produce toxic juglone. When many garden plants come in contact, they go kaput.

To cut a long story short, the first to wilt were the tomatoes. Then the summer squash --- we only got one zucchini! The pepper plants look okay, but they're barely producing. Even the green beans appear to have been hit.

And the walnuts are sandwiched right between the garden fence, the electric pole, and the road. I suspect we're going to have to hire a pro to cut them down. Expensive!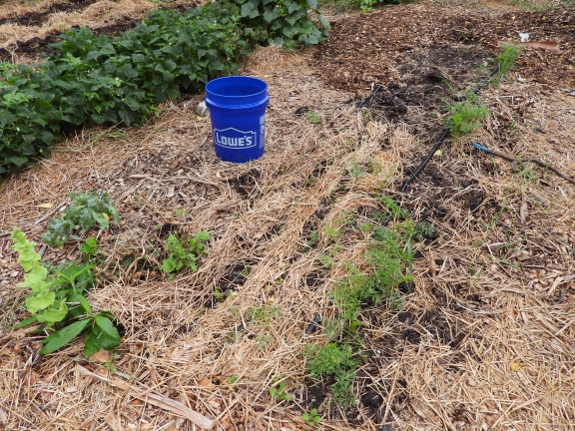 Hopefully that will be a one-time fix. The other issue, not so much.

The photo above shows my carrot bed. Notice how the only sizeable plants are right along the drip line? I started some more carrots inside (the tiny plants closer to the bucket) to fill in the gaps. Lesson learned --- drip irrigation isn't sufficient to get fall crops up and running during our parched summers up on the ridge.


Okay, enough about drip. How about Mark's caterpillar tunnels?

On the one hand, they are awesome! Look at those brussels sprouts --- thriving under their covers!

On the other hand...wedding tulle is so very, very tender. I swear, our caterpillar tunnels sprout holes even when they haven't been touched.

I've been mending these gaps at least once a month, but even that wasn't enough to keep caterpillar worms out of one tunnel. On the other hand, the real fabric intended for this use is $300 and up per roll, so maybe I'll learn to enjoy mending.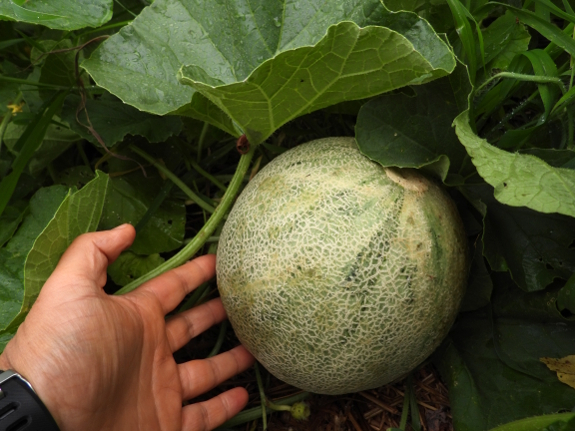 In other news, while I've had lots of unexpected garden failures this year, I've also had one unexpected success. I've never managed to ripen melons previously, which was mostly due to viral diseases caused by bugs. But research turned up the tidbit that melons are very sensitive to cool soil, so I held my horses and planted a disease-resistant cantaloupe (Divergent) outside on June 4 (after starting the seeds inside a month before).

How's it doing? The vines are taking over the garden! There are lots of big fruit hiding under those leaves, the skin crackling and starting to yellow!

Which brings me to the garden lesson I never seem to learn --- for every unexpected loss, there's an unexpected win. Now if I can just figure out when cantaloupes are ripe...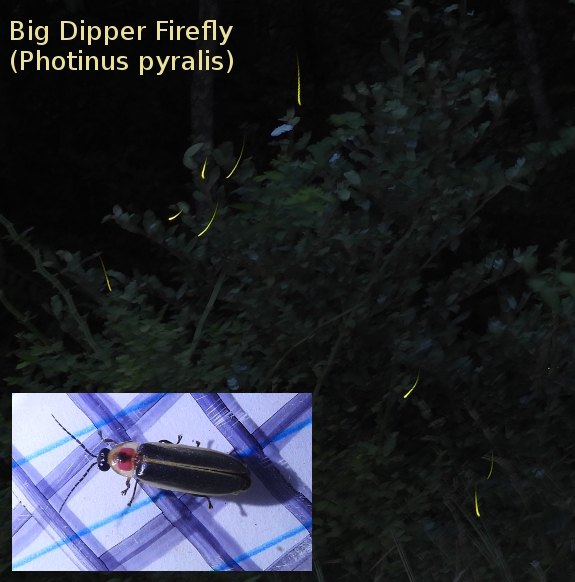 I'm happiest when I have something complex and natural to keep my brain occupied. This year I found the perfect hobby --- fireflies! A citizen science project asks you to spend thirty seconds once a week counting the firefly flashes in your backyard. I gave it a try...and was instantly hooked.

Did you know that there are hundreds of species in the U.S., possibly dozens within a single backyard? One species, though, is pretty simple to figure out. The male Big Dipper (Photinus pyralis) usually comes out right at sunset and flies for half an hour or so. He's got long, yellow flashes that are either J-shaped or (as in my yard) simply rise upward. Count about 5 seconds of darkness in between at 76 F and you've got one firefly species to check off your life list!

(Why do I say "he"? Because the female is hidden in the grass, surveying the field and choosing a mate. Yes, firefly flashes are all about sex.)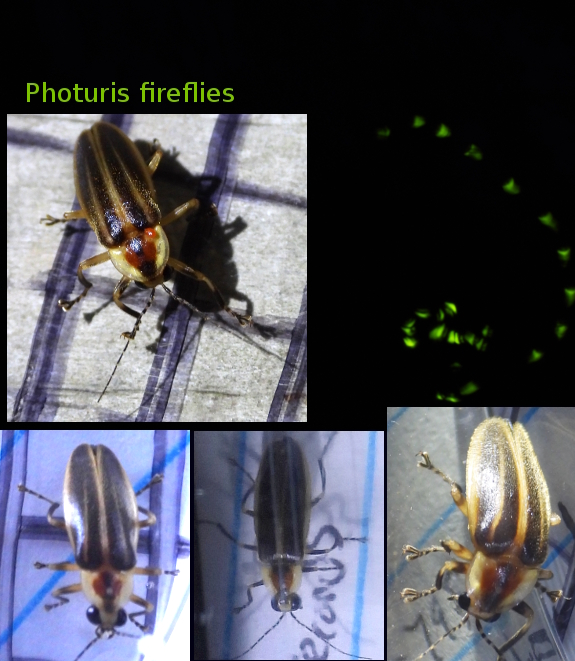 Then, of course, identification gets more complicated. The other common type of fireflies --- Photuris species --- is often predatory, preferring to hunt flashing fireflies of other species rather than seeking mates of their own kind. So Photuris will mimic the flash patterns of other fireflies as well as (sometimes) making specific flash patterns of their own.

There are also a lot of Photuris species out there. I've plotted out a 550 square foot section of our septic field for summer studies and I usually manage to watch about the first half hour of the Photuris show twice a week. Over the course of the last month, I've found at least five different Photuris flash patterns before my eyelids get heavy. Are they all different species? Who knows!

The flash photo above, by the way, shows a typical Photuris habit --- when caught (in a petri dish in this case), they scurry around flashing as fast as they can. Did you notice the flashes here are green rather than yellow, like the Big Dipper's? That's a diagnostic difference between the two genera, along with the long legs of the Photuris and the stripes you often see on their wing covers.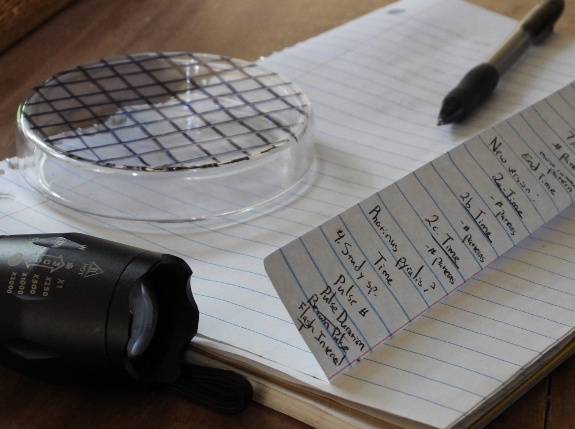 If you want to delve deeper into fireflies, I can recommend some books and gear. Fireflies, Glow-worms, and Lightning Bugs is a beautifully illustrated and easy to read field guide...to a few of the most common species.

Definitely start there, then once you outgrow easy you might want to download the free, intense, and highly technical A naturalist's long walk among shadows: of North American Photuris – patterns, outlines, silhouettes… This book will help you realize that scientists don't know enough yet to ID a lot of the Photurises. Still, it's fun to try!

Trying involves catching and photographing fireflies after you've gotten a handle on their flash patterns. (Here's a free download to some of the most common patterns.) For catching, I found this net to be cheap and effective (especially when combined with masked, socially distancing neighbor kids). Glass petri dishes made it much easier to photograph fast-moving Photurises, and it's now a breeze to measure insects in those photos since I drew a 1 cm grid on the bottom of the petri dish with a sharpie.

Other than that, the only hard part is staying up late (can't help you there --- I'm terrible at it). Oh, and accepting that firefly season is fleeting with species winking out with each week of summer. What better way to squeeze every bit of joy out of the year, though, than to watch fireflies during these short, hot nights?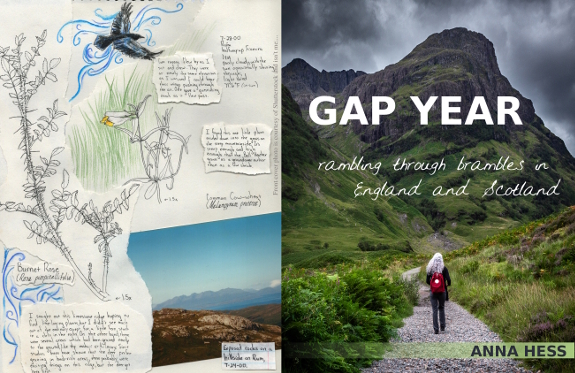 I have a new book out...and it's a total pandemic experiment. Gap Year is available in print only and is on the pricey side for 32 pages (full-color will do that), but it should also be very easy to request at your local library through their regular channels.

The book is a travelogue, mostly in pictures, from the time I spent backpacking and drawing plants right after college. I figure there's a 50% chance no one except my mother will be interested, so feel free to skip this one if it's not your cup of tea. On the other hand, if you like it, writing a review and spreading the word will ensure there's a sequel.

Speaking of reviews, here's one to give you an idea of what you'll find inside:

"This will be one of the easiest 5-star ratings I've ever given. The journal style of the book presents the reader with a unique glimpse into the author's year-long journey around Europe. Beautiful drawings and snippets from her letters home draw the reader into her adventure. I'm definitely looking forward to the next volume. This book would make a beautiful gift to anyone who loves travel or nature." — Turtle Dove

Available on Amazon and Barnes & Noble. Thanks in advance for giving it a try!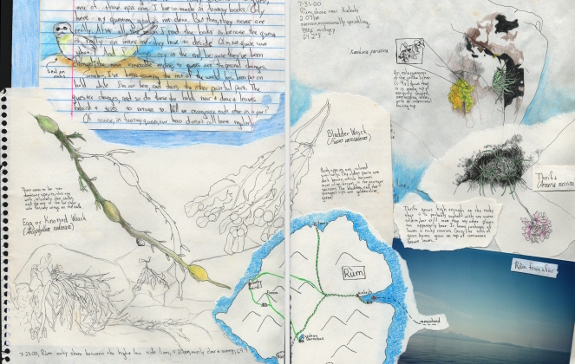 Want more in-depth information?
Browse through our books.
Or explore more posts
by date
or
by subject.


About us: Anna Hess and Mark Hamilton spent over a decade living self-sufficiently in the mountains of Virginia before moving north to start over from scratch in the foothills of Ohio. They've experimented with permaculture, no-till gardening, trailersteading, home-based microbusinesses and much more, writing about their adventures in both blogs and books.